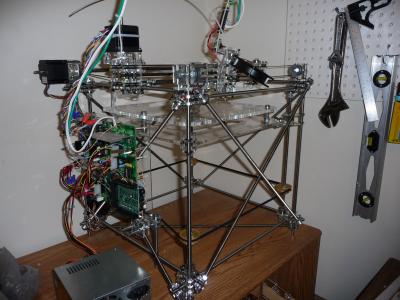 Items of note that you can see in this picture of my Rep(St)rap:
I used the BitsFromBytes laser cut plastic with alloy screws and other hardware I bought from McMaster.com and Fastener-Express.com.
I decided to mount all of the electronics on a thin 8×10 acrylic plate ($1.58 at Lowe's) to make power distribution easy and to retain an appearance similar to the rest of the machine.
Everything is there but the heater.  I'm still waiting for the nichrome wire to arrive.  I can be patient, so I used free super saver shipping. 🙂
I used aluminum gears in place of the plastic ones because the aluminum gears have the same pitch (distance between teeth) as the belts.  Until I did this, the belts slipped a lot, but now it's actually kind of hard to make them slip.
The Z belt tensioner uses an M8 rod instead of an M8 screw.  It extends to the bottom of the cage, giving the tensioner extra stability.